Fashion Leather Diaper Bags Backpack for Mom Full 4 Sets with Handbags & Changing Pad
30 Days Money Back Guarantee:

 



You May Return All Products Within 30 Days After Delivery.

About Shipping:

Actual Arrival Time = Processing Time + Shipping Time
Processing Time 1-2 Working Days
1. Standard : USPS Shipping 7-15 Working Days to Delivery.
2. Expedited: DHL/UPS 3-5 Working Days to Delivery.

--------------------------------------------------

* Fabric:High-grade PU.* Large Capacity Size: 11.8L*5.9W*15.7H inches* What You'll Get:1 normal size backpack diaper bag with Attachable Stroller Straps, Changing Pad, Handbags, Insulated Bottle Keeper.* Features: 2 Insulated Bottle Pockets, Separate Wet Pockets, Attachable Stroller Straps, Changing Pad, Handbags, Insulated Bottle Keeper.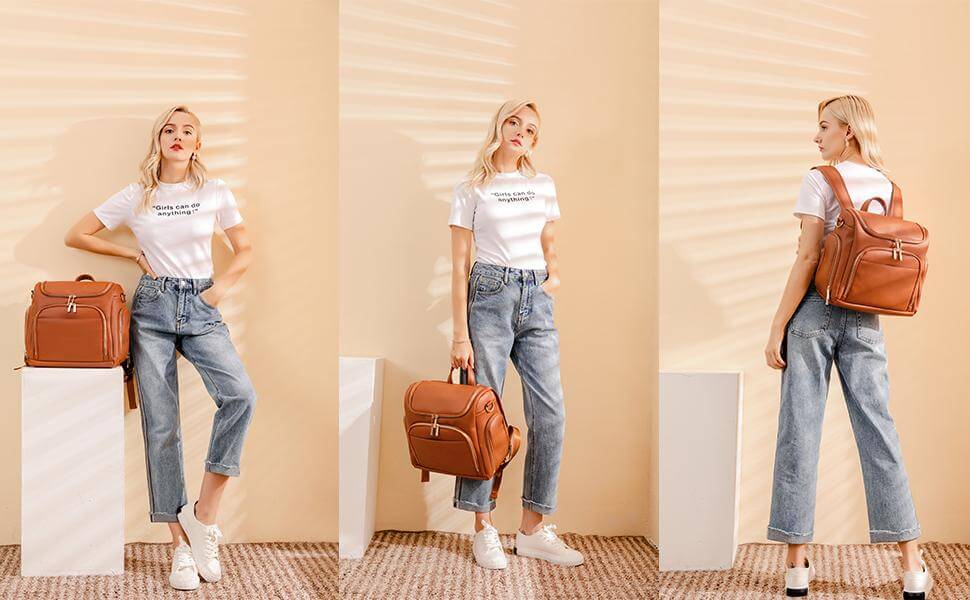 So many compartments
This bag can be used as a back pack, shoulder strap or cross body. It's not real leather, which is good for a diaper bag. Easy to wipe and clean. insulated side compartments for drinks or bottles, holders for bottles inside as well. There are compartments on the back so you can secure wallet while wearing. It also comes with a detachable bottle holder, changing pad and wristlet. A def must have for a mommy.
Great look and feel
The product works great, very spacious and the look and feel of the product is wonderful! Hooks onto my stroller great or you can wear as a backpack while strolling to doctors appointments, grocery stores etc.
*If like me and have a million other things to do and you try to open the top compartment with one hand, you will have to use two! (Zipper works great, you'll just need two hands to unzip)
Over all great product l, I would definitely gift a friend this diaper bag!!
Shipping
How long does shipping take?
After you complete the order, we will working on your order as soon as possible. At present, we use standard shipping methods, which will take about 7-10 days to arrive. If your order is eligible for expedited shipping you'll see the option as a "Shipping Method" at checkout. The expedited shipping time is 3-5 working days.
Note:
Please fill in the address. Please do not fill in the P.O. BOX address. If you fill in the P.O. BOX address, no matter what kind of shipping cost you pay, it will take more than 15 days to receive the goods.
RETURNS POLICY
Returns:
Note: Personalized jewelry cannot be returned or exchanged as each piece is customized for you!
1) What is the deadline to apply for a return? You must apply within 30 days of receiving the item(s). To return items, you must keep them in perfect condition, without using or removing the labels and the original packaging..
2) Who pays for the shipping costs when making the return? a. If you received an incorrect or damaged product, please contact customer service immediately so we can resolve the issue. We want every purchase to be exactly as anticipated and promised. For the return under this condition we will pay the return shipping fee. If you are returning multiple items, please return them together to enjoy Free Return on all items. If you return the goods one by one, you may need to pay an additional shipping fee. b. If the product is in good condition, but you don't like it and want to return it back, the postage needs to be borne by you..
3) How long does it take to be refunded in full? A full refund will be given once we have received your package and confirmed that the conditions for reimbursement have been met. The sooner you return the item(s), the sooner you will get your refund!.
4) How do you deliver/deposit the refund? Your refund will be returned using the same method used for the original payment of the purchase.